The pressures along with the joys of the holidays is quickly encroaching. Figuring out all that needs to get done in order for you to enjoy your break, if you're getting one, can be challenging.  As nurses and physicians you're probably thinking about others and how you can best meet their needs. It is helpful to stop and breathe and check in with what is important to you in relation to what needs to get done and the people you care about. What you value can be a guide for how you approach your Holiday To Do List.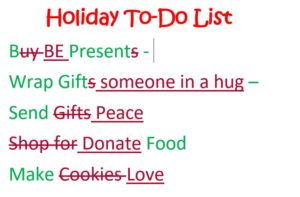 This is a revised list which I saw a number of years ago and still enjoy. The shifts on paper look easy, just cross out a word or letter and replace it with another. If you're feeling burnout they may even appear foolish, however these changes offer an opportunity to increase your well-being. It is so easy to get caught up in the original  Holiday To Do list.
As you look toward the New Year, what do you want to put on your list? Your Plan for Well-Being coaching package can help you clarify and plan for what is important to you.
Here's to the Revised List above.
Be Present – This is central to your ability to experience your own life, the joys, hum drum and disappointments too. As nurses and physicians, you are probably aware of the importance of being present. When you are preoccupied or your thoughts drift away, the impact of your care is lessened whether it shows up in accuracy of diagnosis or in individualized care/treatment plans. Being present allows you to deal with what is, for yourself as well as be for others in your life.
Wrap Someone in a Hug – When was the last time you really wrapped someone with your hug? Even when there are people you love, what are the hugs you give and receive like?
Send Peace – By setting the intention and saying to yourself "I am sending Peace to ___" is a good way to send peaceful energy to yourself and others. Often patients are in turmoil with diagnosis and self-care. What would it be like to send peace energetically as you approached your patients?
Donate Food – The winter holidays remind us to share with others.  Where in your community can you donate food?  There are a variety of organization like Daily Bread Food Pantry or Connecticut Food Bank that you can support.
Make Love – For many this is a happiness booster for you as an individual as well as a restorative activity as a couple. Too tired at the end of a busy day? Plan for this activity too.
For more ways to make your Holiday To Do List reflect what's important to you, contact me.
Revitalize Your Life,
Dina, 203.744.YOU3 (9683)
If you like this post and know others who may benefit from it, please share. If you're not yet on my list, please sign up at HeartofWellBeing.com to receive articles regularly.