Besides all the things you can do for yourself to decrease stress and build your resilience, there are times when changes at work are necessary. Working in healthcare, it's easy to feel stretched thin by the demands of documentation, insurance regulations, pre-authorizations and patient care. At times, the demands pull you in too many directions. Approaching solutions with a win-win mindset can go a long way toward improvement.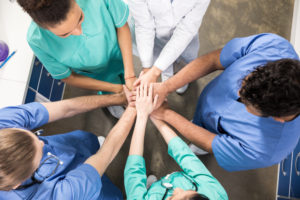 When you're thinking about changes like adding another team member or redefining roles and responsibilities, it's important to see things from other points of view too. You can shift your perspective by asking yourself "What's in it for them?" "Them" being your organization and the individuals that will be effected. This shift helps you define what you want so that it is aligned with the organization and others you work with. Tapping into another's perspective increases your empathy. Asking others for their contributions to solve work problems, strengthens your relationships. As you align with others, you'll refine your ideas and get more people on board.
Recently, this came up with someone who'd like to have a new hire added. In discussing how to broach the topic with her boss many questions came up. They involve reflection on the benefits of a new hire for her organization. They go beyond relief regarding her workload.
Below are questions that came up for her.  You can use them if you're at the point of knowing that a change in roles or an additional person is needed where you work.
What do you imagine the person would be doing?
What are the goals of your boss and organization that might be achieved more easily by hiring another person onto the team?
In what ways would another person free you to work on the goals of your team/organization that you have had to put off?
What are the benefits of the new position for your organization?
Once you have reflected on a few of these questions, you may revise your thoughts on what the person would be doing. When suggesting role changes and new hires, they have to benefit your organization as well as you. Thinking win-win is critical for success.
Contact me, to Revitalize Your Life,
Dina, Well-Being Coach
203.744.YOU3 (9683)
If you like this post and know others who may enjoy it, please share. If you're not yet on my list, please sign up at HeartofWellBeing.com to receive articles twice a month.​