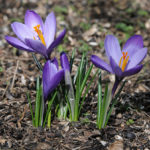 Rebirth, Refresh and Reawaken, spring is associated with these. It's a time to renew your well-being too. The spring holidays, while making things more hectic, also offer an opportunity to pause and reflect. In healthcare, you may not be noticing much change in your daily experience; the patients keep coming in, at least there are fewer flu cases. Will you be working over the holiday? When can you set time aside, even 15 minutes without work, kids or phone, to think about what you want in the next several months?
For me, cleaning for Passover is a reminder to declutter mentally as well as physically. This way I can make room for new ideas and refreshed attitudes.  I am trying to integrate the knowledge and experiences I gained over the winter prior to getting caught up in the hectic schedule associated with warm weather and busy week-ends.
Here are some things I want to remember to enhance my well-being in the next several months, some new and some renewed. Maybe they'll be useful for you to renew your well-being.
Challenge Counter-productive Thoughts with Resilience Strategies – First I have to be present and notice these thoughts for what they are, somewhat destructive and limiting and then I can challenge them in 3 ways. 1. Use Evidence by identifying experiences that demonstrate the opposite of the unproductive thought; 2. Reframe – keep asking myself, what would be a better, more helpful, way for me to look at this and 3. Plan – not stew and ruminate, instead make a plan. If X happens then I will do Y.  Having a specific plan can be freeing, the decisions are already made.
Be Curious – there is something about spring with the light and new life that helps me be curious.  I want to embrace this more often and let go of assumptions.
Pura Vida – I was recently in Costa Rica and learned this ever-present phrase meaning "pure life" or "simple life", a phrase that reflects a mindset. It's a more positive version of the KISS principle – keep it simple stupid. I have a tendency to complicate things and this is a good reminder to let go of that.
What do you want to begin anew? What will you do to enhance your well-being in the next months?
For more ways to move from burnout to well-being and build resilience, contact me.
Dina
Improving well-being for healthcare professionals through coaching.
If you like this post, please share. If you're not yet on my list, please sign up at HeartofWellBeing.com to receive articles regularly.