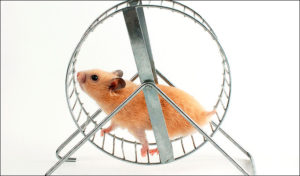 Life is so full and busy sometimes you may find yourself on auto-pilot, I know I do.  There is something freeing about being able to not have to think about every action.  And yet, going through the motions and getting from one place or task to another is also exhausting and not very fulfilling. What do you do to get off the hamster wheel of a busy life?
One of the most powerful things you can do to increase your engagement an fulfillment is become present to what you are doing.  The decision of what to do is not in question; you can avoid the decision fatigue. Being present in the moment allows you to experience your life.  You can notice who you're with, what's going on within you and around you. You may even get a chance to recall the purpose for the action you're involved with. Or perhaps it will wake you up to the idea that this action is no longer serving the purpose you had in mind.
So, how can you get present in the moment?
Take 3 slow deep breaths. When you take these breaths focus on what is going physically for you. Where are your feet? What is your body position? How do your eyes feel? What are you doing with your arms and hands? What sounds do you hear?  What temperature do you notice?
Breathe in deeply so that your belly rises, and slowly exhale through your nose or mouth. Breathing is a relatively involuntary action.  When you focus on it, you can take some control of this process.  As you exhale slowly you stimulate the para-sympathetic nervous system, the one associated with rest and digest. Once you're ready, add a mental phrase like "I am Here" or "I am present" to help you experience this moment. Even in the less pleasant moments there is something to notice.
Experience yourself in this present moment, whether you're driving in the car, working on a routine task for work or home or caught up in anticipating what's next.  When you are present, you can get off the hamster wheel and recognize that you have choices in this moment.  It may be a choice of attitude, a choice of action or both. Knowing you have a choice and then making a choice is a way to break the cycle of running on the hamster wheel.​
What's possible when you get off the hamster wheel?
To discover ways to enjoy your busy life, contact me.
Revitalize Your Life,
Dina, Well-Being Coach
203.744.YOU3 (9683)
If you like this post and know others who may enjoy it, please share. If you're not yet on my list, please sign up at HeartofWellBeing.com to receive articles twice a month.​