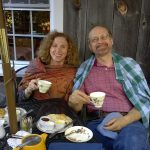 Recently, I watched a brief video of Shawn Achor.  He is the author of The Happiness Advantage; this book is what got me involved with positive psychology. He has been involved with positive psychology research and practice on college campuses and international businesses for about two decades. He has seen how happiness fuels success and fulfillment at work, in relationships and in life generally.
Consistently, Achor has found that when our brains are positive people perform significantly better than when our brains are at negative, neutral or stressed. "Your brain at positive is 31% more productive." When we are positive, we become more engaged, creative, motivated, energetic, resilient, and productive at work and beyond.
This is consistent with Barbara Fredrickson's Broaden and Build theory of positive emotions. She observed that positive emotions broaden a person's capacity intellectually, physically, emotionally and socially.  They encourage creative problem solving and pro-social behavior and increase, build, one's resilience.
If you're feeling negative, overwhelmed or burnt-out this may not seem like good news. However, it turns out that there are things you can do to train your brain to be more positive.  Sonja Lyubomirsky has found that 40% of your happiness is in your control.
Achor and others have noted that there are some activities which are associated with increasing positivity. He suggests that 21 days of consistent practice can lead to long-term changes. You may be familiar with a few of these, especially if you've been reading this blog consistently and others may cause you to think "hmmm, how does this work?"
Here are what's on Achor's list of activities to train your brain to be more positive.
3 Gratitudes – 3Ws
Journaling about a positive experience which you had in the last 24 hours
Exercise
Meditation
Random Acts of Kindness
Which one will you commit to?  Let us know so we can support you in your practice.
For more ways to increase your positivity and well-being contact me.
Revitalize Your Life,
Dina, 203.744.YOU3 (9683), Well-Being Coach
If you like this post please share. If you're not yet on my list, please sign up at HeartofWellBeing.com to receive articles regularly.