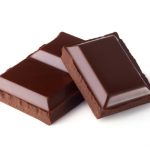 Dark chocolate with at least 70% cocoa (sometimes written as cacao) is associated with health benefits. Science finally caught up with the wisdom of our taste buds when it comes to chocolate.  Dark chocolate contains healthy fats along with flavanol which acts as an antioxidant helping our body's cells resist damage caused by free radicals. Basically it helps to decrease inflammation on a cellular level. Sometimes I like to think of antioxidants as preventing rust in the body, especially rust from building up in the arteries and clogging our "pipes."
Chocolate has been noted for its positive effects from being an aphrodisiac to decreasing vascular disease. Paula Owens outlined a variety of these benefits, along with citations, in an article she posted Feb. 13, 2012.
So, how much chocolate is good for us.  After researching a variety of sites it appears that for cardiac health we only need a small amount, less than 7 grams which is about a third of an ounce; it is unlikely adding much more is beneficial because of the fat and calories which come along with large amounts of chocolate. I will admit that I did read a study in which 2 ounces of dark chocolate a day was associated with lowering stress, but I did not see this amount used in other studies.  Chocolate used for "medicinal" and health purposes must have a high cocoa content, minimum 70% cocoa. The cocoa is what helps improve blood flow and  reduces inflammation.
Hints for indulging in chocolate:
Choose a minimum of 70% cocoa, with low sugar content and minimum or no saturated fats and no trans fats, this means no brownies.
I've found making my own hot cocoa is a great treat, 2 scoops cocoa to ½ scoop sugar, boiling water and low fat milk, proportions of your choice here.
Limit yourself to a quarter of an ounce (7 grams) a day, or ½ an ounce 3 x a week; a tablespoon of chocolate chips is 14-15 grams.
Savor your moments of chocolate pleasure.
203 744-YOU3